Pat Register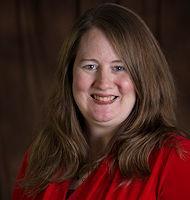 Pat Register is originally from Florence, Alabama. She currently holds a Bachelor's in Art in Music/Vocal Performance from the University of Alabama in Huntsville and a Master's in Music Vocal Performance from Arkansas State University. While in the Huntsville, Alabama area Mrs. Register sung with the University of Alabama Huntsville Concert Choir, Huntsville Opera Theatre, and Madison Community Choir. Mrs. Register also performed with the Concert Choir, Women's Choir, Chamber Choir, and Arkansas State Opera Theatre at Arkansas State University. During that time she performed the roles of "The Abess" in Suor Angelica, "Ciesca" in Gianni Schicchi, "Ludmilla" in The Bartered Bride, and "Rosalinde" in Die Fledermaus. Mrs. Register also performed the role of the Mother Superior in Sound of Music. While performing with the Arkansas State University choral program she sang the soprano solos in the Mozart's Coronation Mass and Mozart's Regina Coeli. She has also won her division at National Association of Teachers of Singing (NATS) twice, once while living in Arkansas and once in Mississippi.

I have always wanted to teach. I have been teaching private voice since 2008. I want students to exceed and reach their goals. My emphasis is on correct vocal technique including breath support, mouth position, and standing position. I also let the student pick songs that he or she would like to sing. I try to make the lesson as fun as possible, but also maintain a professional atmosphere.
Pat Register is currently not instructing any classes.