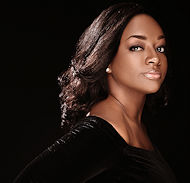 Hailed by Opera News for her "sumptuous, mid-weight soprano," and The New York Times' Anthony Tomasinni for her "warm, ample voice" and "distinctive earthy coloring," Ms. Brandie Sutton first embraced classical music during her undergraduate studies at Oakwood University where she received her Bachelor of Arts degree in Music with a concentration in voice. She began her professional career with a solo recital in the province of St. Maarten and many presentations of Handel's Messiah around the United States. Ms. Sutton has debuted at the John F. Kennedy Center for the Performing Arts in a solo recital in Washington, D.C., Merkin Concert Hall in Lincoln Center and most recently debuted at Carnegie Hall. She has performed with the National Symphony Orchestra, Royal Danish Symphony Orchestra in Copenhagen, Denmark, the Radio Orpheus Symphony Orchestra in Moscow and the Krasnoyarsk Philharmonic Symphony Orchestra in the region of Siberia. Ms. Sutton has also toured and soloed with the internationally acclaimed American Spiritual Ensemble under the direction of Dr. Everett McCorvey and with Wynton Marsalis and the Jazz at Lincoln Center Orchestra under the baton of Damien Sneed.

Opera performances for Ms. Sutton include the roles of Pamina in Mozart's The Magic Flute, Cleopatra in Handel's Giulio Cesare, Lelia in composer Steven Allen's Lyrics of Sunshine and Shadows, Musetta and Mimi in Puccini's La Bohème, Giulietta in Offenbach's Les Contes D'Hoffmann , Cio Cio San in Puccini's Madama Butterfly; Clara in George Gershwin's Porgy and Bess at the Grand Théâtre de Genève in Geneva, Switzerland, and Bess at the Palacio de Bellas Artes in Mexico City.

Ms. Sutton was a winner of the Metropolitan Opera National Council District Auditions and also took 3rd place in the national competition The American Prize. Ms. Sutton believes that she was blessed with a gift from God. She continues to work hard to develop and perfect this gift, and share it with the world. "They need to know what my God can do!" she exclaims.